CNN Belief Blog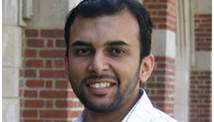 Editor's Note: Qasim Rashid is a national spokesperson for the Ahmadiyya Muslim Community USA. Follow him on Twitter @MuslimIQ.
By Qasim Rashid, Special to CNN
(CNN)–My New Year's resolution is to not die for my faith. I'd hoped that 2012 would bring a revolution among Muslims and Muslim-majority nations to free oppressed minds.
Yet I find myself still waiting to not die.  That's the "curse" of being an Ahmadi Muslim in too much of the Muslim world.
Ahmadi Muslims believe Mirza Ghulam Ahmad (1835-1908) is the long awaited messiah and Mahdi the Prophet Mohammed foretold, sent to unite mankind and establish peace. But this isn't an evangelical piece, so please, keep reading.
View original post 740 more words